I can appreciate this quote because I also believe that the world looks better from the back of the horse. I love the pace, whether that is walking and enjoying all the detail you would miss from a car, or if it is galloping up a hill feeling the wind, smelling the fresh air and feeling the power of the horse I am riding. Traveling by horse gives me time to think and appreciate my surroundings.
Do you prefer riding a horse over other forms of transportation? Why?
Here is a link to a blog about a man who has been traveling by horseback for years!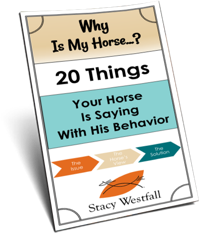 FREE PDF DOWNLOAD
WHY IS MY HORSE...?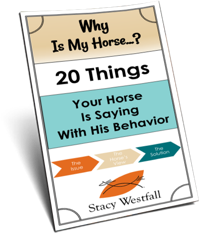 Free PDF Download "Why is my horse...20 things your horse is saying with his behavior"
PDF will be delivered to the email address you enter as will weekly tips from Stacy. Totally free. Unsubscribe anytime.