Injuries happen. At the last horse show I was at I saw a man in a cast and the first thing I asked was, "Horse related accident?" to which he responded, "No, I just tripped." We both laughed and I told him he really needed a better story, or at least a better build up. But the incident got me thinking. Horses can be dangerous, but so can many other hobbies. This spring my 14 year old nephew broke his ankle/leg when he landed wrong during basketball. Another friend injured her knee in the same way. Several people I know hurt themselves simply walking, or rather, while simply walking.
Horses can be dangerous but there are ways that we can make them safer including educating both the horse and the rider and by simply being aware.
Here are some interesting statistics;
one in five injuries related to horses happens before mounting up
most dismounted injuries are

more serious

than mounted injuries
dismounted injuries tend to be kicks
mounted injuries tend to be falls
Total pro sports ranked horseback riding at #7 in comparison with other sports-
Football
Basketball
Cycling
Skateboarding
Baseball
Softball
Horseback riding
Ice hockey
Lacrosse
Golf
Tennis
There are many interesting products out there to help reduce the chance of injury. Riding helmets are the most widely known and recommended piece of safety equipment. Others include safety vests and break away stirrups.
How dangerous do you consider horseback riding to be? What is the worst wreck you have been in or witnessed?
P.S.-Here is an interesting video on breakaway stirrups.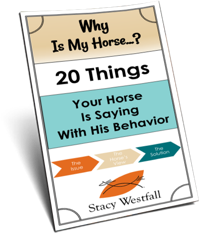 FREE PDF DOWNLOAD
WHY IS MY HORSE...?
No one taught you the skills you need to work through these things.
Riders often encounter self-doubt, fear, anxiety, frustration, and other challenging emotions at the barn. The emotions coursing through your body can add clarity, or can make your cues indistinguishable for your horse.
Learning these skills and begin communicating clearly with your horse.
Click here to learn more.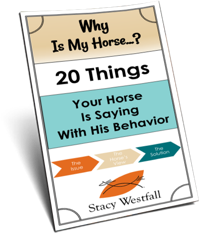 Free PDF Download "Why is my horse...20 things your horse is saying with his behavior"
PDF will be delivered to the email address you enter as will weekly tips from Stacy. Totally free. Unsubscribe anytime.