"How do you decide how long a  training session with your horse should be?"-Cindy M
There are many factors that go into deciding how long a training session should be. Often people decide how much training time by how long they have but it is generally better if we can set the goal to be primarily physical or emotional.
In a training session we are either trying to change something physically or mentally with the horse. Knowing what your focus is will help you determine how long the session will be. For example, in this video I am riding Al, an off the track Thoroughbred that is being retrained as a riding horse. This video is one entire training session and yes, it is only about three minutes long. During this session I was mostly focused on the mental training. Al anticipated hard work so I purposely chose to do some very short rides, even if I rode him once in the morning and once in the evening. My purpose was to change the way he thought about a typical ride.
Al also preferred going to the right instead of the left so I purposely only rode him to the left. I was again trying to plant a mental seed of 'left' being the answer.
Also, notice that I didn't try to accomplish a lot of different things in this time period. I stayed smooth and steady which will help Al have a positive experience.
There have been other horses, on other days where I was trying to accomplish other goals so my rides were drastically different. For example, I have ridden horses with 'relax' as the goal, so I spent 2-3 hours riding them but not working them hard. This was planting the seed that neither one of us was going to rush through the process so we should both relax.
Other times I have been working on more physical goals such as improving the spin or the slide. Physical training often requires repetition much like learning to dance and it would be common for me to reward the physical improvement.
We are always training both the physical and the emotional but I have a plan before I head out to ride as to which will be my focus for that day. I am free to end the session if I see any improvement or if I am 'planting' a seed. Remember, any improvement should be considered a success.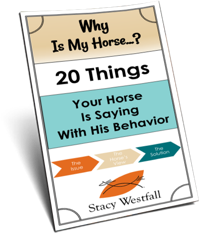 FREE PDF DOWNLOAD
WHY IS MY HORSE...?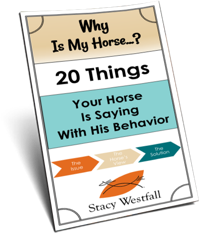 Free PDF Download "Why is my horse...20 things your horse is saying with his behavior"
PDF will be delivered to the email address you enter as will weekly tips from Stacy. Totally free. Unsubscribe anytime.