"The master in the art of living makes little distinction between his work and his play, his labor and his leisure, his mind and his body, his information and his recreation, his love and his religion. He hardly knows which is which. He simply pursues his vision of excellence at whatever he does, leaving others to decide whether he is working or playing. To him he's always doing both. " -James A. Michener
Some people call me crazy but I would argue that I am pursuing the art of living. Take this weeks blend of work and play. The Western Shooting Horse magazine wanted to do a photo shoot with me in the beginning of November so they asked me where I would be. I told them Maine…but warned them that the weather could be unpredictable.
The photo shoot was scheduled for November 5th…and on November 2nd the first snow storm of the year hit Maine shutting down roads and leaving well over 100,000 without power. Being the crazy horse people that we all are (we admit that all horse people are a little crazy, right) we never even considered moving the photo shoot.
Don't get me wrong, photo shoots are fun…but they are also lots of work. Hours are spent preparing the horses, the humans, and picking locations. Did I mention it was cold? If a photo shoot is done well then the viewer can't see that it was really hot, super cold or that the biting flies were trying to carry you away.
The weather did try to make a nice turn around for the shoot. Most of the snow was melted although we did take photos with snow in them. The best part about this shoot was that the photographer, Scoop, let me pick a lot of the locations. We aimed for the most predictable locations first…and then they let me have fun!
Growing up I would swim my horses at this boat landing frequently and I thought the backdrop was beautiful. I did have one request; after the photos that were needed were done, I wanted to swim my horse.
So what that we had almost half a foot of snow a few days ago…or that my horse had never been ridden bareback…or that my horse had never been swimming for that matter…lol.
If I read the above quote by Michener then I will leave you to decide if I was working or playing…but I will tell you it was chilly!
P.S.- Before you panic about the water being too cold for Newt, I can assure you that we didn't stay in very long and he had nice warm coolers waiting for him when we got out. When my kids ran cross country they would 'ice' their bodies to promote healing. I have heard that Native Americans would stand their horses in cold water to ice their legs. The swim was actually refreshing…in one of those 'polar bear club' kind of ways!
To listen to a radio interview where I also talk about swimming, click here.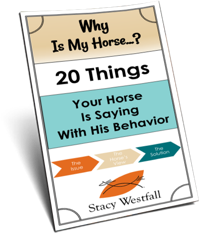 FREE PDF DOWNLOAD
WHY IS MY HORSE...?
No one taught you the skills you need to work through these things.
Riders often encounter self-doubt, fear, anxiety, frustration, and other challenging emotions at the barn. The emotions coursing through your body can add clarity, or can make your cues indistinguishable for your horse.
Learning these skills and begin communicating clearly with your horse.
Click here to learn more.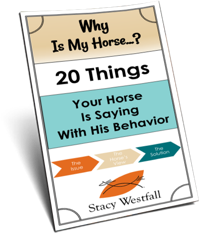 Free PDF Download "Why is my horse...20 things your horse is saying with his behavior"
PDF will be delivered to the email address you enter as will weekly tips from Stacy. Totally free. Unsubscribe anytime.