"What can a person do when their horse has heaves?
Every fall and winter my mare gets heaves an every time I take her to the vet they say she's healthy. October to May she gets bad if feed the wrong hay." -Anna
My first horse (pony actually) was named Misty and she had heaves. As a kid I remember the worst symptoms happening during hot humid weather. As she got older it occurred more frequently. She would exhibit difficulty breathing as well as wheezing sounds. The vet did give us some medication that we could give her when this happened and then we would turn her out and give her the day off. I don't recall what the vet prescribed. Although it was something we had to manage she was well worth the extra care.
Thankfully I haven't run into this problem again. I did find a great article "Horses Heaves Symptoms and Treatment" by Horse & Rider that I suggest reading. It was interesting to discover that my mom and I did five of the eight suggested tips on our own.
Have you ever had a horse with heaves? How did you handle it? How did the horse respond?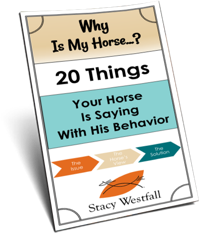 FREE PDF DOWNLOAD
WHY IS MY HORSE...?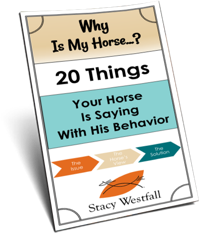 Free PDF Download "Why is my horse...20 things your horse is saying with his behavior"
PDF will be delivered to the email address you enter as will weekly tips from Stacy. Totally free. Unsubscribe anytime.