Fear is an emotion. We imagine harm in the future. That thought triggers physical changes: fast heartbeat, headache, irritability, rapid breathing, sweating, trembling, muscle tension and more. Most of us know these symptoms from personal experience…but did you know that you can train your emotions?
Last night Barbra and I spent almost two hours discussing the topic of fear. We opened with each of us telling a story about how fear had negatively affected our lives. The greatest part of sharing the story isn't the negative side of what happened but the reality that a gold nugget of learning was hidden inside these tough times. I learned how to 'release the outcome.'
Barbra shared how her experience helped her to find her own inner compass and ask 1) What do I have control of? and 2) What do I love?
Much of Barbra's teaching is on training human emotion and I know from personal experience that one tip can make a huge difference.
Do you deal with fear? Did you miss the live seminar last night? Great news! You can listen to the whole thing right now at the click of a button. You might want to go ahead and download it…we talked and then answered questions for almost two hours!
Click here for a link to listen right now or download for later.
Be sure that you check out the free download in the top left corner called the "Relationship Roadmap" and if you liked what you heard and want to learn more about "Letting Go of What Other People Think" consider taking a look at Barbra's Workshop designed to gently walk you through subtle shifts in how you think about yourself and your relationships.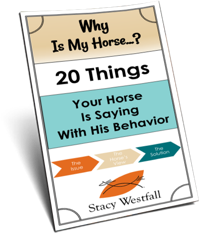 FREE PDF DOWNLOAD
WHY IS MY HORSE...?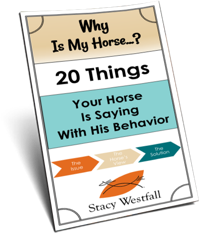 Free PDF Download "Why is my horse...20 things your horse is saying with his behavior"
PDF will be delivered to the email address you enter as will weekly tips from Stacy. Totally free. Unsubscribe anytime.