Most of us are at least somewhat aware of our own habits. You probably recognize that you have a routine when getting ready for bed each night or the way you fold your cloths. We become especially aware of those habits if someone interrupts or changes them. Where did you learn that habit? How strong is the habit? What would it take to change it?
In the last six months I have done more trail riding than I did in the last ten years. It was an interesting revelation in my old habits vs my new ones. I would have guessed that the rider I have become in the last 25 years would be the rider that hit the trail…but no. The rider I was as a teen when I logged most of my trail riding hours quickly showed up. Habits that had been lying dormant for many years quickly surfaced. My knees hurt after only an hour or so in the saddle. How could this be? I regularly ride for many hours a day in an arena. Same horse. Same saddle.
Different rider.
The rider I was years ago was more of a passenger on trail rides, not an active rider. As soon as I was aware that my old habit had shown up I was able to switch and become a more active rider again but the point remains; unless changed in those setting the old habits are still there.
It was a fun adventure every time I went out on a trail. The old habits meeting the new habits in my body while my mind observed it all.
I was recently working a horse that I believe already has some 'habits' that she has learned. Early on in her training she was allowed to be excitable, fresh and emotional during the first part of each work session. She would eventually come around but I now suspect that this has become a habit with her. The biggest clue is that the first ten minutes of a workout she is ready to come unglued. Almost anything can set her off; a bag, a pole, or simply lunging. She expects to be crazy. Day after day as I work her I see a horse that really isn't scared of the bag or the pole…but expects to be emotionally out of control for the first 10 minutes.
I didn't start her but if I could go back I would have changed the pattern early on. This horse is carrying on the 'pattern' even though she isn't really excited. Interesting food for thought.
Can you think of an area where you have habits that you do, only because you learned them early on…even though they don't benefit you now?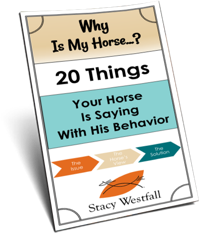 FREE PDF DOWNLOAD
WHY IS MY HORSE...?
No one taught you the skills you need to work through these things.
Riders often encounter self-doubt, fear, anxiety, frustration, and other challenging emotions at the barn. The emotions coursing through your body can add clarity, or can make your cues indistinguishable for your horse.
Learning these skills and begin communicating clearly with your horse.
Click here to learn more.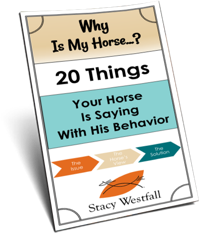 Free PDF Download "Why is my horse...20 things your horse is saying with his behavior"
PDF will be delivered to the email address you enter as will weekly tips from Stacy. Totally free. Unsubscribe anytime.