Episode 188: Moving faster or slower than your horse; physically and mentally
Are you willing to be out of sync with your horse to make progress?
In this podcast, I talk about the idea of moving faster or slower than your horse as a concept that exists both physically, and mentally.
When physically riding a horse, it makes sense that you could be
'ahead' of the horse's motion, 'with' the horse's motion, or 'behind' the horse's motion.
When riders learn how to ride, they are taught to move with the horse at all times. What if the next level of learning happens when you aim for another position?
I also share how this 'ahead', 'with', 'behind' can also show up mentally when working with your horse. A listener shares a success story that illustrates how getting 'ahead' can bring a horse into a state of being 'with'…and it feels truly amazing.
⬇️FULL SHOW NOTES
CLICK FULL SHOW NOTES
coming soon

Links mentioned in podcast:
Episode 182-How to deal with a mouthy horse and prevent biting.
SUBSCRIBE TO THE PODCAST HERE: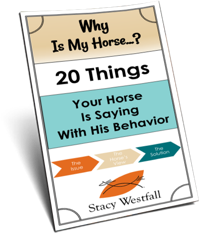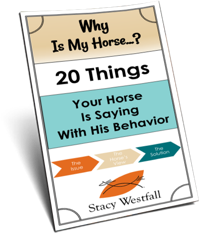 Free PDF Download "Why is my horse...20 things your horse is saying with his behavior"
PDF will be delivered to the email address you enter as will weekly tips from Stacy. Totally free. Unsubscribe anytime.