Stacy,  You are a great inspiration to me as a lifelong horse lover. You are a woman of faith and a veteran horse person. I want to know if you would ever or have ever changed a horse's name that you acquired? After I had "renamed" three different horses, I met a cowboy (not a man of faith) who said it was "bad luck" to change a horse's name. I had never heard that but asked a few other horse friends and they confirmed the cowboy's info. I don't believe in bad luck but I must be honest – i had bad experiences with all three horses – granted I have been working hard with trainer to learn from my past mistakes…I have had many great horse experiences as well which is why I continue to pursue my horse dreams.
I recently acquired a new horse whose name I did not change and we are having a blast…
Also, I'm not interested in sharing your answer, definitely a personal and faith reconciling issue – any insight would be appreciated.
Many blessings to you, your family and business,
Kim k
_______________________________________________
Kim,
I guess there are many ways to look at this one. There is changing the 'legal' or registered name (which I have done before) or changing the barn name (which I have done before). The 'legal' name is harder to change but doesn't really get used much so I am guessing you are talking mostly about the barn name.
Around here barn names have both come in with the horses (this is Popcorn) or sometimes we get in horses with no barn name (Hailey's yearling). If the horse comes in with a name and is staying with the same owner than the name generally sticks…as long as it fits the personality. If it is a new horse for an owner and they don't love the barn name then sometimes the name will be used 'loosely' for awhile while everyone tries to identify something that fits better.
As you know all horses have different personalities. Like people some develop nicknames, shortened names, or pet names while other do not.
You may remember the palomino I bought last fall. He had a registered name but the breeder had never given him a pet name and the two trainer he was sent to before they decided to sell him never saw fit to name him either. When he came to me to be sold I thought he would be a fun project and that we would enjoy learning from each other…but he needed a name. I leaned towards Trigger (palomino….) but after opening it up to Face-book names began to flood in. As we read them all one made everyone laugh, "Twinky". I wasn't in love with it…but it wouldn't go away. And it made people laugh. 'Look at my new horse Twinky' is a funny sentence. The fact that Twinky also held a grudge against the past training methods used on him made it even more important to laugh when around him. So 'Twinky' stuck.
Popcorn, who many of you know, was named at The Road to the Horse because he came from the Cornelius ('corn') Ranch. I do call him Popcorn although more often he is 'Poppy!'. Our dogs name is Trouble although he is often called 'troubley-bubblely', 'troubes', or 'tweeb-le'….strange variation on his name.
My once stallion, now gelding is Vaquero. His registered name is TSW Can Can Vaquero and his nickname is Vaquero. I have tried playing with the name, attempting a pet name, but he his not that kind of a horse. The same way some people fit pet names while others you would never dream of attempting a pet name with.
I have one customer who 'always wants a Lady in the barn' so….he will usually have a mare named Lady. Yes, one after another! Another customer had a mare that was bred to the same stallion three years in a row. Each baby looked like a clone of the last and because the first one was named 'Jackie' along came 'Jackie Two' and 'Jackie Three'.
I, like you, don't believe in bad luck. In the end the horses around here tend to name themselves and as their personalities grow and change sometimes those names change with them.
Ride with Faith,
PS-With the volume of horse and name changes I have seen I can make no connection between keeping the name and having success vs changing the name and having problems.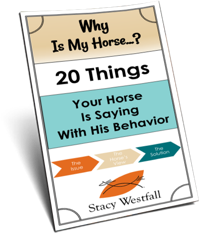 FREE PDF DOWNLOAD
WHY IS MY HORSE...?
No one taught you the skills you need to work through these things.
Riders often encounter self-doubt, fear, anxiety, frustration, and other challenging emotions at the barn. The emotions coursing through your body can add clarity, or can make your cues indistinguishable for your horse.
Learning these skills and begin communicating clearly with your horse.
Click here to learn more.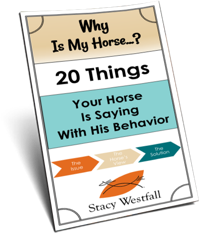 Free PDF Download "Why is my horse...20 things your horse is saying with his behavior"
PDF will be delivered to the email address you enter as will weekly tips from Stacy. Totally free. Unsubscribe anytime.