Dear Diary,
Hello Diary, this is my first time doing this but with all of my traveling I want to make sure I remember it all. The good and the bad.
The first good thing I want to remember is my first time swimming. It was scary at first because the ground was all squishy but then it got fun. It made me snort. I hope I get to do it again.
The bad thing is I got in trouble. Mom told me not to beg for treats…but I keep forgetting. The kids have been sneaking me treats and then I got all excited and kept stopping other people. It's really hard to remember which ones give me treats and which ones don't. I will try harder tomorrow.
Well, thats all I have for now. I'm headed to bed. We just got to a new place today and I bet we will do something fun tomorrow.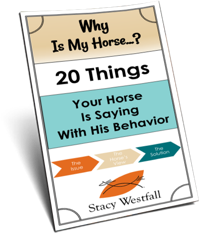 FREE PDF DOWNLOAD
WHY IS MY HORSE...?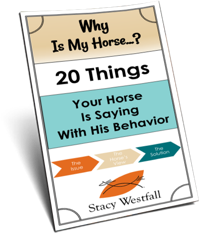 Free PDF Download "Why is my horse...20 things your horse is saying with his behavior"
PDF will be delivered to the email address you enter as will weekly tips from Stacy. Totally free. Unsubscribe anytime.