"Dear Stacy-Recently I had a bad accident with my potential world contender horse. We had been showing for about a year and doing very well on the local circuit. She spooked at the last show I was competing in and went up. I fell off and she lost her balance and landed on me. I was in the hospital & rehab about 1 1/2 months. I am now trying to decide what to do with her as I am not comfortable riding her. She is a western pleasure mare with a great bloodline and a nice mover. She has lots of potential but of course I have lost my confidence. My trainer in Ocala wants her back and has offered to continue showing her. I feel she needs to start over from the ground up which is not what a lot of breed trainers do. What would you suggest?" -Beverly M
We all know that accidents can happen with horses, the decision you need to make is whether this was a freak accident or if there are holes in this horses training. There are a few ways to make that decision. First you need to review mentally everything that happened during the accident. For example, did a dog run under your horse suddenly which caused the horse to rear?…or…Did the horse spook, and when you collected or redirected her, then over react by rearing? There is a big difference.
In order to build more confidence I would need more answers. I would need a reason to believe that this was not going to happen again. Again, I would examine the situation that lead up to the accident. If the horse spooked because someone tripped and fell down the bleachers then I would recreate a loud noise to see if I could trigger the same response while doing groundwork. If I thought that the horse reacted to the riders hands than I would do some ground driving to help determine if the horse is being reactive to the bridle.
You are correct when you say that many breed trainers would not consider starting over. It is common for 'show' horses to lack the same foundation that a non-show horse would have. The mindset seems to be that the focus should be on the specialty and as long as the horse is good at that…then they are willing to live with the rest. Many don't see the point in training a horse for life outside the pen when they could be spending that time on the sport specific needs.
I recommend training for both. Showing in a specific class is great but I also want them trained like someone might do crazy stuff with them like ride them through a kiddie pool or wrap them up in a tarp. The irony is that it makes them better show horses in the end because they have a broad view of life and have learned to handle stress in various situations.
I hope you heal up well. The mental part for you will be big because you need a reason to believe things have changed.  It is also fair to discuss with the trainer what they think happened and to ask them to demonstrate what has been done to correct the situation. There is a quote that says, "The definition of insanity is doing the same thing over and over and expecting different results." You know your horses history, you are asking great questions and you seem to have your horses best interest in mind. Remember that as the owner you have the final say and you should listen to your gut.
Check out these videos: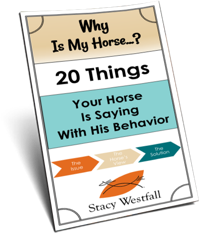 FREE PDF DOWNLOAD
WHY IS MY HORSE...?
No one taught you the skills you need to work through these things.
Riders often encounter self-doubt, fear, anxiety, frustration, and other challenging emotions at the barn. The emotions coursing through your body can add clarity, or can make your cues indistinguishable for your horse.
Learning these skills and begin communicating clearly with your horse.
Click here to learn more.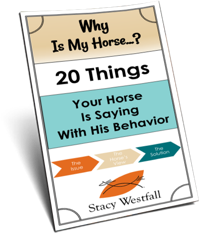 Free PDF Download "Why is my horse...20 things your horse is saying with his behavior"
PDF will be delivered to the email address you enter as will weekly tips from Stacy. Totally free. Unsubscribe anytime.