If you have had horses for longer than a week you probably have some kind of a first aid kit. It might be as simple as some ointment you picked up while you were buying feed or it could be enough equipment to rival an equine medical clinic. It is also likely that the longer you have had horses the more items you have accumulated. 
My items start with the basics. An ointment for minor cuts or scrapes (I have Novalsan), another ointment to keep flies away from cuts and scrapes (SWAT) and vet wrap if that cut or scrape is somewhere that it can, or should, be wrapped up. Vet wrap, or other self sticking wrap, will deteriorate in the unopened package so be sure to replace it if you have had it sitting around for awhile. It is incredible frustrating when you need it, have it, but then find out it won't work. Scissors are a must have also. My husband carries all his shoeing supplies so I also have a variety of larger cutting tools available at my horse trailer for bigger jobs.
A thermometer is a great diagnostic tool and your vet will be happy if you have already done your homework. Practice taking your horses temperature now…it is no fun to be training a sick horse while you are stressed.
I keep a digital thermometer around because they are unbreakable but I dislike that the batteries die especially in the cold weather. At my house thermometers have a cycle: 1)grocery store  2)medicine cabinet for humans 3)barn for horses. Once they go to the barn…there is NO COMING BACK!  Then I buy another one at the grocery store. I could save myself this hassle if I would buy another mercury thermometer, but I had one break in the house (it was still in stage 2 of the life cycle) and I learned that cleaning up mercury is a nightmare. 
When we packed up to begin traveling I made sure that we had Banamine on board. It is only available from your vet and comes in both an oral paste or a liquid. Obviously you will need to talk to your vet about this one. It is an items that I always travel with because it is the first thing that a vet will give a horse if they suspect colic. Having it on hand makes it easier when I call the vet because, if they want me to give some Banamine and watch the horse before they make a house call, I have it ready to go.
These are five of the items that made it into my first aid kit. What are the minimum items you would recommend to a new horse owner?
What items would be in your ultimate first aid kit?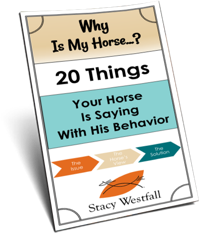 FREE PDF DOWNLOAD
WHY IS MY HORSE...?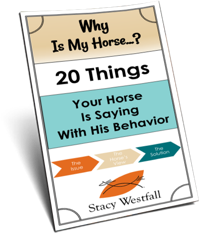 Free PDF Download "Why is my horse...20 things your horse is saying with his behavior"
PDF will be delivered to the email address you enter as will weekly tips from Stacy. Totally free. Unsubscribe anytime.