"All that is gold does not glitter,
Not all those who wander are lost;
The old that is strong does not wither,
Deep roots are not reached by the frost.
From the ashes a fire shall be woken,
A light from the shadows shall spring;
Renewed shall be blade that was broken,
The crownless again shall be king."
After seeing the front of our motor home in a video, Sharon H. provided us with the above quote and told us, "The quote "not all who wander are lost" is from the Fellowship of the Rings by J R R Tolkien."
I chose the quote after a friend gave me a necklace with it and when we moved into our motor home for this adventure it seemed appropriate to put it on the front.
We were in Maine for the end of October and beginning of November, stopped in Ohio for about a week and have just finished our stay at the NRHA Futurity. We are headed west, eventually to California, but with many stops along the way. If you see us, wave and take a photo to share with us on Facebook or here on the blog.
Yep, we are wandering…but we are not lost.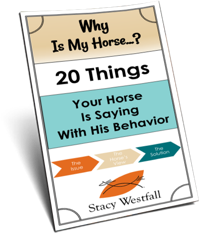 FREE PDF DOWNLOAD
WHY IS MY HORSE...?
No one taught you the skills you need to work through these things.
Riders often encounter self-doubt, fear, anxiety, frustration, and other challenging emotions at the barn. The emotions coursing through your body can add clarity, or can make your cues indistinguishable for your horse.
Learning these skills and begin communicating clearly with your horse.
Click here to learn more.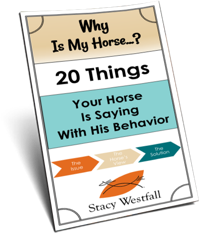 Free PDF Download "Why is my horse...20 things your horse is saying with his behavior"
PDF will be delivered to the email address you enter as will weekly tips from Stacy. Totally free. Unsubscribe anytime.