What happens when a cowboy heads to China?
A great blog!
Do you remember the embroidered bronc halter that Jac wears? The same one Weaver featured in a product contest? Jeremiah Watt designed the beautiful hardware used in it. He also makes custom saddles that have a waiting list among other things, he is quite the artisan.
This is the same Jeremiah Watt who is currently biking across China. Actually his plan is to bike around the WORLD. He is starting in Qingdao China and then onto;  Mongolia, Russia, Altai Krai region, Ukraine, Portugal… then back to USA and across the USA in winter. For more detail tour info check out his first blog post which goes into more detail.
When I last visited with Jeremiah's wife, Colleen, in January she was explaining the process of getting Visas for all the countries that Jeremiah would pass through…which sounded kind of crazy. I guess I should be happy that my husband just wants to ride his horse across the US some day…
The Visas must have all come through because Jeremiah is in China and his blog is up and running. I love the lingo and I will keep coming back to the blog for more of it! With statements like these, how can I not?
"there is the chance smelling mistake, maybe bad punturation or grammar…"
"wait yer turn, I will be gone soon enough."
"we are back to getting used to Chinese lineups, thats were you stand in loose assembly waiting to be cut off or be shoved hard enough that nine offenders can slip thru"
"if any biker ever complains about the price of equine equipment there will surely be a quick fist fight."
"My tongue rolled up like a cheap garage door…all this is followed by a distinct gagging reflex…"
The photos are great too. The blog posted on June 2nd also include recipes such as how to replicate what they are eating in China:
"Now a Sea Horse is a little different, I suggest asking Mom to roast an old wooden pencil for several hours. With that done dip the pencil in fish oil and roll heavily in natural sea salt. Eat in small sections as a sea horse is small…….dont worry about the lead, I have heard it can be pulled out your pants later anyways."
I'm not sure if reading this blog will encourage or discourage my desire to travel to China but I'm going to read it anyway. I hope he writes a book about it when he is done and I would LOVE to sit and listen to him tell the stories himself sometime…I find myself laughing out loud when I read them, I bet I would be shedding tears of laughter with him telling them!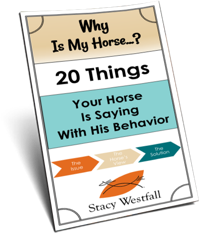 FREE PDF DOWNLOAD
WHY IS MY HORSE...?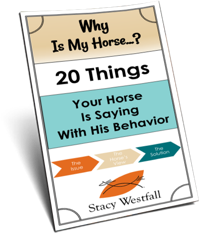 Free PDF Download "Why is my horse...20 things your horse is saying with his behavior"
PDF will be delivered to the email address you enter as will weekly tips from Stacy. Totally free. Unsubscribe anytime.