Jesse sold his horse, his only horse, to buy my engagement ring.
We were married June 7, 1997. We have been married for seventeen years.
When we were married he had one dollar in his pocket and that was all the money we had.
By 2005 we had worked hard and built our business. I was showing a nice 4 year old mare named Whizards Baby Doll. I wanted to do freestyle reining with her but for me the song needs to match the horse. Roxy was an elegant mover…the song 'A Moment Like This' by Kelly Clarkson was suggested and it fit. But what to wear?
A horse so black and a song so elegant…what about a beautiful dress?
The most elegant dress I owned was my wedding dress. Jesse and I had three sons and I decided that any future daughter-in-laws would probably want their own new wedding dress.
But can you ride a horse in a wedding dress? Will it interfere with movement? Will it hold up?
How will you know unless you try?
To my delight the dress still fit (phew!) and I showed in it a total of six times in 2005. The first time I showed in it I was still unsure of how it would hold up. We did well and won $600.00.
The next four times I relaxed and became comfortable with the cap sleeves and the low cut back. When I walked my spur rowels would frequently catch in the lace but I wasn't worried as I had no future plans for it.
My last show in the dress was at the NRHA Futurity during the freestyle reining. By this time Roxy, the dress and I were pretty comfortable with our roles. With only a few more people to show before my turn all of my supporters went to find seats in the arena…and that is when it happened.
The zipper ripped out of my dress.
I was loping, bridleless, when I felt a pop and suddenly felt my dress become very loose. Keep in mind that the back was low and the cap sleeves barely covered my shoulders.
I immediately clutched the front of my dress and froze in the middle of the arena. Roxy stood calmly while I was falling apart inside. They were already calling my name to be sure I was prepared.
My face must have reflected my terror as two women who were in the warm up arena stands asked me, "Honey, do you need some help?"
I remember nodding dumbly as words had not yet returned to me.
Once I found my voice I quickly explained my problem. We were short on time and even shorter on materials to fix me up. We quickly pulled pins from my entry number and the women pinned me back together again.
To make it even more interesting the women had to overlap the material to pin it back together…if it hadn't been snug before it was now tight. By now my name was being called and I walked, breathing shallow so as not to pop the pins, entered the arena. The impending threat of being stabbed by safety pins and having my dress fall off was a constant distraction.
Roxy was still flawless and we won again. This completed a clean sweep of all six freestyles Roxy and I entered that year. It also brought our grand total of money won in my wedding dress to $17,014.
Not a bad return on a $274.98 dollar dress!
The dress is now in the National Cowgirl Hall of Fame Museum  collection for future display.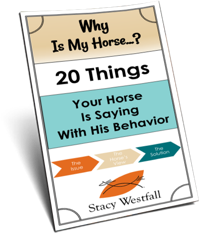 FREE PDF DOWNLOAD
WHY IS MY HORSE...?
No one taught you the skills you need to work through these things.
Riders often encounter self-doubt, fear, anxiety, frustration, and other challenging emotions at the barn. The emotions coursing through your body can add clarity, or can make your cues indistinguishable for your horse.
Learning these skills and begin communicating clearly with your horse.
Click here to learn more.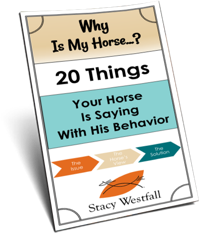 Free PDF Download "Why is my horse...20 things your horse is saying with his behavior"
PDF will be delivered to the email address you enter as will weekly tips from Stacy. Totally free. Unsubscribe anytime.