We frequently travel with our horses to far off places. We have trailered horses from Maine to California, Florida, Texas, Nebraska, several times into Canada to name a few.
To keep both horses and humans safe, on long trips we stop for the night. Recently, I have made several trips between Texas and Ohio. The drive takes about 20 hours which I break into a two day trip.
The nice thing about traveling the same route is that it is possible to become familiar with certain amenities…including the horse motels along the way.
If we are traveling an unfamiliar route and need to find a place to stop we go to www.horsemotel.com. The website features a map that gives an idea of where the stable is located so I can quickly see if there is one on my route.
My favorite feature of the website is the comment area. It is a section of the website where people who have stayed at each horse motel can rate the stay and leave comments. We have been using the site for years and have stayed at dozens of the stops. By reading the descriptions and the comments all have been what was described.
Some places can handle a large number of horses and other might only take two or three. We try to call in advance to let people know we are traveling through the area and to ask if they will have room. There have been time, however, when we have hit bad weather and could not make it to our original horse motel. The original hotel has always been understanding and the new hotel, with as short as one hour for notice, has also been accommodating.
Some offer lodging for the humans also in the form of cabins, apartments or RV hook ups. If they don't they can give valuable advice as to how far human hotels are and what they recommend; much of this is already listed at horsemotel.com.
Cindy Ruprecht and Circle R Horse Lodge has been my go-to stop between Texas and Ohio. Her place is close to the highway and her stalls are big, sturdy and clean. Like most horse motels Cindy checks the horses health papers and coggins, which I like. Stopping at Cindy's place already has the feeling of visiting with a friend and I like knowing that she checks on the horses while I am headed to my human hotel and again in the morning before I arrive.
Many of these places could be destination trips. Some have miles of trails or easy access to other horse activities and others can offer invaluable information for things that might occur on the road. For example Cindy has a local horse trailer shop and RV store nearby if you need repairs as well as a feed dealer and tack store.
Traveling with horses is extra work but it is also a great way to get to know other horse people around the country.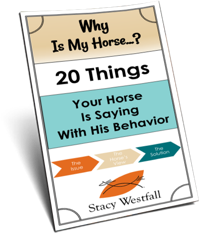 FREE PDF DOWNLOAD
WHY IS MY HORSE...?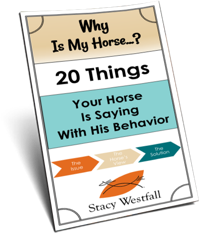 Free PDF Download "Why is my horse...20 things your horse is saying with his behavior"
PDF will be delivered to the email address you enter as will weekly tips from Stacy. Totally free. Unsubscribe anytime.