When I saw this quote I thought about photographing a mini with horses. Although that would have worked, I felt lead to have the photograph include people. 
Many times it is uncomfortable to feel 'different' when in reality we are all unique…like it or not.
Sometimes being 'different' is a choice….like driving a mini to school to pick up your child in the car-line.
Other times being different is not wearing the 'right' clothes or saying the 'right' things when you are with people.
                                                            *
The more that I looked at the quote the more I realized that two words in it were problematic; 'different' and 'laugh'.
In car line this day people were laughing…but it was good laughter, they were enjoying the differences.
Other times laughter is hurtful, aimed to make people feel unworthy.
                                                            *
I almost threw the whole photo and quote out by the time I was done analyzing it. Then I thought…why not explain my issues with it and enjoy reading your responses:)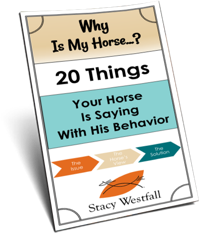 FREE PDF DOWNLOAD
WHY IS MY HORSE...?
No one taught you the skills you need to work through these things.
Riders often encounter self-doubt, fear, anxiety, frustration, and other challenging emotions at the barn. The emotions coursing through your body can add clarity, or can make your cues indistinguishable for your horse.
Learning these skills and begin communicating clearly with your horse.
Click here to learn more.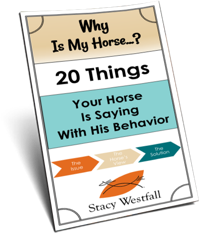 Free PDF Download "Why is my horse...20 things your horse is saying with his behavior"
PDF will be delivered to the email address you enter as will weekly tips from Stacy. Totally free. Unsubscribe anytime.