The goal for Jac's first horse show wasn't to win a prize, the goal was to use the whole experience as a learning and training session.
The atmosphere is a lot of the training; many horses around, warm up pen, bathing, riding, preparing, walking into the pen alone, odd hours, etc.
Gathering information is key to predicting how a horse will handle future experiences. By making the first several trips to shows very low pressure the horse is more likely to have a positive experience.
Jac's first class was a green horse class and the goal was to do the maneuvers correct with little or no degree of difficulty. Unfortunately, Jac broke gait (went from a lope to a trot) when slowing down from the large fast circle to the small slow circle. In the video I explain, "I'm going to blame that on me…I wasn't helping him or guarding him…I was using the class to gather information. Had this been a show I was concerned about I would have helped him. Instead I learned Jac was very relaxed."
The learning that takes place at a show is not only the horse. The rider also learns how to better prepare and show the horse.
I answer a question about my goals when taking a horse to a show or a trail ride for the first time; what types of things do you do to ensure a good experience for the horse.
I explain that many people ride their horses harder at a show or when they haul them somewhere than they do at home. When this happens the horse learns to expect hard work when they are hauled.
I ride my horses harder at home than I do at the shows so that the horse learns that traveling doesn't require more work.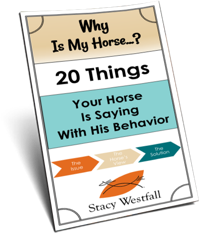 FREE PDF DOWNLOAD
WHY IS MY HORSE...?
No one taught you the skills you need to work through these things.
Riders often encounter self-doubt, fear, anxiety, frustration, and other challenging emotions at the barn. The emotions coursing through your body can add clarity, or can make your cues indistinguishable for your horse.
Learning these skills and begin communicating clearly with your horse.
Click here to learn more.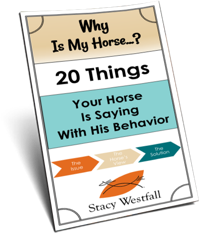 Free PDF Download "Why is my horse...20 things your horse is saying with his behavior"
PDF will be delivered to the email address you enter as will weekly tips from Stacy. Totally free. Unsubscribe anytime.