"Stacy, What percentage of 'failures' in horses do you get, or do you research their bloodline and background and pretty much know beforehand if the horse will train well? I love watching your videos!"
Interesting question! The answer to the question really depends on how the words 'success', 'failure' and 'goals' are defined.
With my own personal horses I have the freedom to make an educated guess about what the horse will likely excel at…but if it doesn't work I can change the goal. An example of this would be a horse I bought a couple of years ago as a 'project'. My main goal was to rebuild his foundation so he could be a solid citizen. Along the way I trained him to be a reiner. He was good at it…but he was sold as a roping horse. I didn't consider his career change to be a failure…it wasn't my main goal. I don't know if you ever watched the cartoon Lilo and Stitch but the main character, Lilo, always said she was looking for the creatures 'one true home'…that is how I look at my horses.
I think your question was probably more 'sport' specific, so I will answer it that way also.
Many of the horses that I ride have been 'created' because my husband Jesse has recommend certain mares be bred to certain stallions. Jesse has 'created'; Whizards Baby Doll (Roxy), Can Can Vaquero (2011 Freestyle Champion), SV Peppy Whiz (Rookie of the Year Horse) and other horses that have won over $100,000 in combined earnings. Jesse 'created' Jac also. Jesse was trying to create horses that would be successful in the reining pen. If we define "success" as horses who earned money in the reining pen then with his knowledge he has had about a 75% success rate. The rate is lower that maybe it could have been because some horses were sold to people who didn't rein with them, they showed in cutting or barrels or trail rode. They weren't 'reining' money earners…but they were still nice horses….were they a success or a failure?
One of the reasons that training for the public can be a challenge is because of how these words are defined. I have the freedom with my own personal horses to 'go with the flow' and know that success is having a happy well trained horse that will be enjoyed by someone. That is the reason why I can enjoy all horses…because my 'success' isn't defined by the show pen.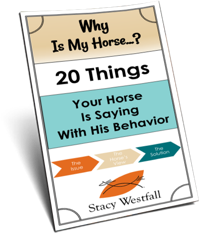 FREE PDF DOWNLOAD
WHY IS MY HORSE...?
No one taught you the skills you need to work through these things.
Riders often encounter self-doubt, fear, anxiety, frustration, and other challenging emotions at the barn. The emotions coursing through your body can add clarity, or can make your cues indistinguishable for your horse.
Learning these skills and begin communicating clearly with your horse.
Click here to learn more.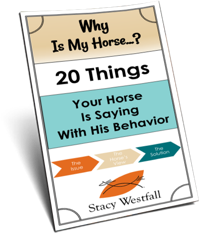 Free PDF Download "Why is my horse...20 things your horse is saying with his behavior"
PDF will be delivered to the email address you enter as will weekly tips from Stacy. Totally free. Unsubscribe anytime.