This is a picture of Popcorn that was taken by my kids. I am nominating it as one of the worst photo angles of a horse EVER taken!
Poor Popcorn! Just for contrast look at what he SHOULD look like.
Please post your worst horse photos here…if you dare!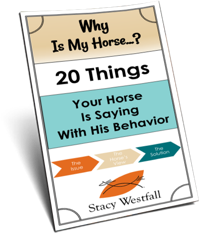 FREE PDF DOWNLOAD
WHY IS MY HORSE...?
Free PDF Download "Where is my horse...?"
20 things your horse is saying with his behavior.