The most frequently asked question we are receiving at the moment is: If you're living on the road, where do you keep your horses? I am going to try to keep everyone updated by making short videos and blogs of the moves.
We just moved out of a horse show (Quarter Horse Congress) yesterday and now we will spend about a week in our old home town. We are camping at a park and our horses will be staying at a friends house.
As we just finished a couple of tough weeks at the show, the horses will enjoy turnout time and some lighter riding. If the weather stays nice (it is supposed to rain) then I would love to do some trail riding…but not in the rain.
What questions would you like to have answered about life on the road with horses?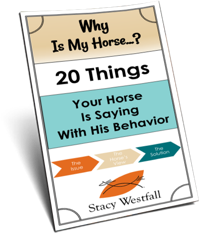 FREE PDF DOWNLOAD
WHY IS MY HORSE...?
No one taught you the skills you need to work through these things.
Riders often encounter self-doubt, fear, anxiety, frustration, and other challenging emotions at the barn. The emotions coursing through your body can add clarity, or can make your cues indistinguishable for your horse.
Learning these skills and begin communicating clearly with your horse.
Click here to learn more.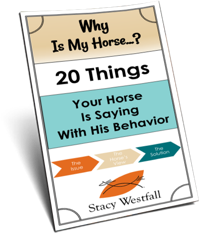 Free PDF Download "Why is my horse...20 things your horse is saying with his behavior"
PDF will be delivered to the email address you enter as will weekly tips from Stacy. Totally free. Unsubscribe anytime.