Packing up to leave Congress is always a sad moment for me. People from other states head their direction as we head ours and often we won't see each other again until next Congress. I can feel that it is a door closing. I know that next year will come, and that good things will happen between now and then, but I still feel sad.
"You cannot protect yourself from sadness without protecting yourself from happiness."― Jonathan Safran Foer
Last night while watching the freestyle reining I said to the announcer, "You've been announcing here for years, are you more excited as you announce now or less?"  Without hesitation he said more. He went on to explain that his years of involvement in the industry, as a rider, participant, announcer and more have given him a deeper appreciation. As he put this into words it seemed like he was explaining how I felt. The layers of memories formed over the years have built what is now my Congress experience.
What event happens yearly that you look forward to?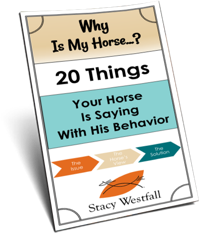 FREE PDF DOWNLOAD
WHY IS MY HORSE...?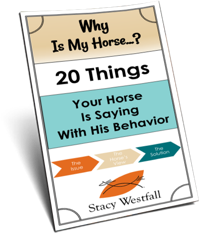 Free PDF Download "Why is my horse...20 things your horse is saying with his behavior"
PDF will be delivered to the email address you enter as will weekly tips from Stacy. Totally free. Unsubscribe anytime.