This week someone asked me the question; "Do you miss showing in the freestyle?"
For the whole week I didn't really have an answer. At first I thought this meant 'no' I don't miss it, but I wasn't sure. I also didn't give it much specific thinking time either though.
Tonight, while watching the Congress Freestyle I found my answer: Yes. I do miss showing in the freestyle.
But…I'm still happy I am not.
I have a specific way I like to show in the freestyle. Specific goals that I want to achieve, if, and when, I do show in the class. If I don't think I can reach those personal goals…then I'm not interested in showing.
Each person has their own personal reasons for showing. For some it is a bucket list item. For others it sounds like fun. Yet others seek the challenge of winning.
Sitting in the stands watching tonight made two things clear; I do miss showing in the freestyle and I do hope that some day I will do it again.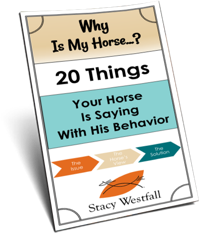 FREE PDF DOWNLOAD
WHY IS MY HORSE...?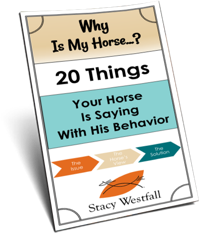 Free PDF Download "Why is my horse...20 things your horse is saying with his behavior"
PDF will be delivered to the email address you enter as will weekly tips from Stacy. Totally free. Unsubscribe anytime.