"When it comes to picking your partner……..choose wisely. It is important in life to know what your goals are. If you are the kind of person that likes to cuddle up on the couch and talk and watch movies with someone then you probably shouldn't choose to marry someone that can't sit still till it's time to go to sleep. Likewise when choosing a horse to buy if you want to take a nice leisurely stroll down the trail you wouldn't want a horse that is so hyper you can barely keep him at a walk.
When people come to me and ask how they can get their horse to slow down and relax for a trail ride and then they explain that it is an ex-contest horse, inside I shake my head and wonder why they chose this type of horse for leisurely trail riding. It's not fair to a horse or a person to be put in a situation that they are more than likely going to fail. You wouldn't want to buy a draft horse and then be frustrated that he can't catch the cow running down the fence or a pony that can't jump 5′ jumps, it's not fair.
Make sure you know what it is you want to accomplish in life and pick your partner wisely, everyone will be happier in the end." -Jesse Westfall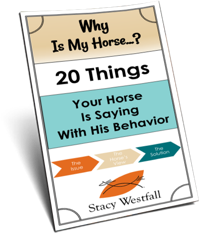 FREE PDF DOWNLOAD
WHY IS MY HORSE...?
No one taught you the skills you need to work through these things.
Riders often encounter self-doubt, fear, anxiety, frustration, and other challenging emotions at the barn. The emotions coursing through your body can add clarity, or can make your cues indistinguishable for your horse.
Learning these skills and begin communicating clearly with your horse.
Click here to learn more.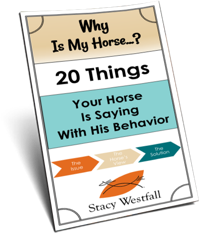 Free PDF Download "Why is my horse...20 things your horse is saying with his behavior"
PDF will be delivered to the email address you enter as will weekly tips from Stacy. Totally free. Unsubscribe anytime.