I asked the question: "What behind the scenes info would you like to know about living, showing attending, or generally being at the Quarter Horse Congress?" This short video will answer many of these questions. Below are the answers to three specific questions that were asked:
"It would be great to see a day in the life of Newt at Congress! When does he get out the stall? What's the warm up pen like? How do you burn off energy from being couped up all day – and translate that into a good performance?" Morgan S.
I think the video shows you the process of the day leading up to showing. We don't always ride late at night, sometimes we ride during the day in the covered pen. I chose to show the two extremes in the video; the craziest 12 hours and the easiest day. The short clip at the end shows a 'down day' when Newt gets out to play. Sometimes we 'trail ride' around the grounds. Other times he plays on the lunge line. Once we leave Congress he will get pasture playtime again.
"How do you schedule your time effectively to perform, see friends perform and cheer, & see other events without being dead dog tired every day." Bridgette F.
Hmmm, I have never considered being anything but dead-dog-tired at Congress…is that possible?!? The day I made the video we (humans) had been up for 44 hours with only 5 hours of sleep in that time period. I will spend weeks trying to catch up on sleep…but we were having fun and visiting with friends! The horses get a lot more rest then we do 🙂
"One of these days I would like to make it to Congress…I've been told to go watch first. Do you have to qualify to show there? How do you know if you are good enough to show there?" Dawn N.
You do not have to qualify for most of the classes. In general, I also recommend coming to watch first. It is a pretty tough show because they offer pretty good awards, etc. If you don't get a chance to come then consider either watching live or buying a video of the class/classes that you would compete in. Then you could compare your riding/showing with what you see on the video to make your decision. Or you can just come and show. Many people have it on their 'bucket list' and they consider the experience worth the trip.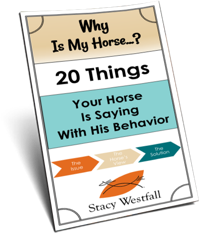 FREE PDF DOWNLOAD
WHY IS MY HORSE...?
No one taught you the skills you need to work through these things.
Riders often encounter self-doubt, fear, anxiety, frustration, and other challenging emotions at the barn. The emotions coursing through your body can add clarity, or can make your cues indistinguishable for your horse.
Learning these skills and begin communicating clearly with your horse.
Click here to learn more.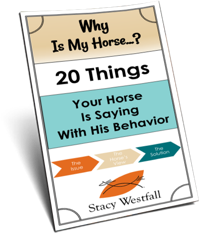 Free PDF Download "Why is my horse...20 things your horse is saying with his behavior"
PDF will be delivered to the email address you enter as will weekly tips from Stacy. Totally free. Unsubscribe anytime.