"Hi Stacy! In Episode 13 you start Jac in a bridle, I'm curious to why you start in a bridle instead if a rope halter, I remember something about how Jac isn't your personal horse, so I'm wondering if you were starting a horse with the intent to do tackles riding, would you still start with a bit and bridle or just a rope halter and why? A rope halter makes sense to me because there would be less steps to tackles. What do you think?"-Jessica C
I can see where the idea of 'less' would appear to be a quicker transition to completely bridleless. There are several ways to view this question. First I will start with what I have done in the past. All of my bridleless reining horses have been very well trained in bits. As the horses have progressed through the stages of training I have always used the tools that helped make the 'correct answer' the easiest for the horse to find. For example, snaffle bits are excellent for teaching a horse to bend side to side and shanked bits tend to encourage breaking at the poll. These statements may sound like my opinions, and they are, but they have been built on observing many horses.
Your question has one huge variable; 'starting a horse with the intent to do tackles riding.' This could mean riding around in a round pen, or pasture, or competing in reining…and those more specific end goals change the answer.
My goals have been to show at the highest levels of reining without a bridle. A variety of bits, as referenced above, are part of the training process I use with my reining horses. This is one of the reasons I started Jac with a bit.
Having said that, I am also sure that there are horses that could be trained in a rope halter and reach a safe level of general riding…possibly even tackless. I just haven't tried this route because I have always started with reining in mind and general riding naturally came with it.
I believe that bits can be comfortable for horses as well as an asset to many training programs. You may also be interested in reading these other blogs I have written on using bits.
What bit should I use with my horse? Why don't you always use a snaffle bit? Doesn't a bit hurt a horse?
Teaching a horse to accept contact with the bit, teaching collection and headset; Jac Review week
Stacy's Video Diary: Jac Review – Teaching a horse to accept the bit
In this episode I show all of the things a horse must know before I switch to a bit with a shank.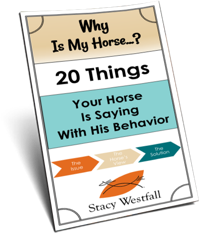 FREE PDF DOWNLOAD
WHY IS MY HORSE...?
No one taught you the skills you need to work through these things.
Riders often encounter self-doubt, fear, anxiety, frustration, and other challenging emotions at the barn. The emotions coursing through your body can add clarity, or can make your cues indistinguishable for your horse.
Learning these skills and begin communicating clearly with your horse.
Click here to learn more.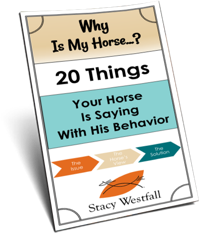 Free PDF Download "Why is my horse...20 things your horse is saying with his behavior"
PDF will be delivered to the email address you enter as will weekly tips from Stacy. Totally free. Unsubscribe anytime.