I needed a horse movie that I could watch over and over again in the motor home…can you guess which one we bought last night? Do you have a go-to horse movie you love to re-watch?
I always loved The Black Stallion. Even watching it now as an adult I am impressed with how non-verbal the entire beginning is. I love it because it makes the horse/human interaction even more personal.
I try to go to every horsey movie that comes out…even if it is a movie like Hidalgo where I have to poke my husband to get him to stop picking on the movie (he wasn't a fan of Hidalgo).
I am hoping that when I check the comments on here I will have a complete list of the best horse movies so I can make it my mission to watch them all.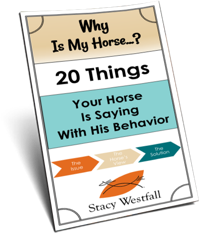 FREE PDF DOWNLOAD
WHY IS MY HORSE...?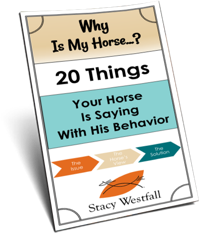 Free PDF Download "Why is my horse...20 things your horse is saying with his behavior"
PDF will be delivered to the email address you enter as will weekly tips from Stacy. Totally free. Unsubscribe anytime.