"Hey Stacy! I just did a report over horse cloning, and I was wondering if you had ever thought of cloning Roxy?" -Lindsay
I would love to see some of your report, maybe you can post some of what you learned here in the comment section. It has been several years since I have heard much about cloning and I haven't really followed it.
I never did consider cloning. I imagine that everyone has their own opinion on the idea, but for me it never seemed attractive. I love each horse for its uniqueness, their personality and their interaction. I look at them so much like a friend that for me it would be like cloning one of my human friends…which seems a bit strange.
I guess another way to say what I mean is that I don't really see the point, for me personally. When I look around the world there are so many horses that could be amazing that I am more tempted to give one of them a chance than to clone. Roxy wasn't a horse that people were lined up to buy…until after she was trained. I also believe that there are more horses out there that could be unique and special in their own way.
Even from a performance stand point I find it interesting that the Texas A&M website states , "…as well as possible health problems associated with cloned neonates makes it unlikely that the cloned offspring will perform at the same level as the donor animal."
I believe that horses are a bit like people, there are a lot of great ones out there and I personally enjoy the hunt.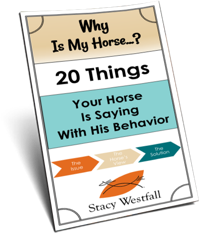 FREE PDF DOWNLOAD
WHY IS MY HORSE...?
No one taught you the skills you need to work through these things.
Riders often encounter self-doubt, fear, anxiety, frustration, and other challenging emotions at the barn. The emotions coursing through your body can add clarity, or can make your cues indistinguishable for your horse.
Learning these skills and begin communicating clearly with your horse.
Click here to learn more.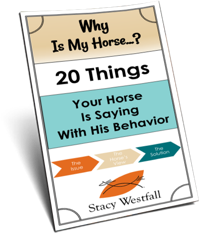 Free PDF Download "Why is my horse...20 things your horse is saying with his behavior"
PDF will be delivered to the email address you enter as will weekly tips from Stacy. Totally free. Unsubscribe anytime.