"Stacy-What do you do with an amazing 8-year-old mountain horse when you learn you can't ride any longer due to medical issues? Deborah R."
Deborah-
I guess, if it were me, the first thing I would do is pray that they were wrong. Then in the mean time I would consider the following options:
keeping the horse as a companion animal
teach the horse to drive if riding in a carriage is an option
loan or donate the horse to a therapeutic riding program or other group that uses horses to help people emotionally or physically
sell to an approved home
Or be even more creative. My first pony was a 'penny pony', we bought her for a penny and when we out grew her, couldn't use her any more or didn't want her any longer we had to give her back. This gave the original owners a way to keep control and it gave the person keeping her an easy way out if she became a burden. We kept her until she passed away in her 30's…she was never a burden.
There are good people out there that can offer great homes. Just because you sell a horse for money doesn't make you greedy or heartless. Consider a situation where the current owner has medical issues that also involve paying out large amounts of money for treatments.
A possible win-win-win would be selling the horse (a financial win for the current owner) to someone who will care for and use the horse (a win for the horse) and will love owning and enjoying the horse (a win for the new owner).
I'm so sorry you are facing this. I'm not saying that this would be emotionally easy.  I know that often animals are used for therapy…if finances allow yours might be your therapy animal for you.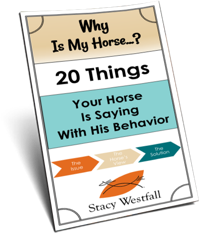 FREE PDF DOWNLOAD
WHY IS MY HORSE...?
No one taught you the skills you need to work through these things.
Riders often encounter self-doubt, fear, anxiety, frustration, and other challenging emotions at the barn. The emotions coursing through your body can add clarity, or can make your cues indistinguishable for your horse.
Learning these skills and begin communicating clearly with your horse.
Click here to learn more.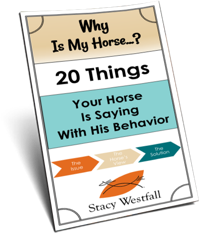 Free PDF Download "Why is my horse...20 things your horse is saying with his behavior"
PDF will be delivered to the email address you enter as will weekly tips from Stacy. Totally free. Unsubscribe anytime.