Many people have asked about the breeding on our horses. I frequently use Roxy as a reference so I will start with her. Jac is Roxy's son and then, I often call Newt, 'Nephew Newt' or Louie is 'Uncle Louie'. Here are photos of the bloodlines, several generations back, thanks to allbreedpedigree.com.
I frequently use Roxy as a reference point so here is a copy of her papers; her registered name was Whizards Baby Doll.
Dun with Juice is also known as 'Nephew Newt' in many of my blogs. As you can see if you look at the 'bottom side' Newt's mother was a full sister to Roxy-which is why I frequently call him Nephew Newt.
Interesting tidbit: Jesse loves the Larry McMurtry 'Lonesome Dove' series. Maggie in the series has a son named Newt…which is how Newt got his barn name!

Here is a copy of Jac's papers. Someone asked the question 'Is Jac inbred?' Several generations back they share Hollywood Jac 86 who is in the NRHA hall of fame. There is always controversy as to what is 'line breeding' and what is 'inbreeding' and if you would like to learn more you can click on this link where there is a great article that explains much of the thinking in the Quarter Horse industry.

Oh, by the way; Uncle Louie is by Whizard Jac. I don't know his bottom side and the internet is not letting me pull it up!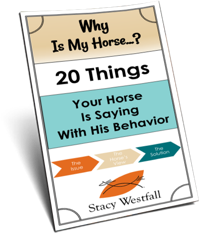 FREE PDF DOWNLOAD
WHY IS MY HORSE...?
No one taught you the skills you need to work through these things.
Riders often encounter self-doubt, fear, anxiety, frustration, and other challenging emotions at the barn. The emotions coursing through your body can add clarity, or can make your cues indistinguishable for your horse.
Learning these skills and begin communicating clearly with your horse.
Click here to learn more.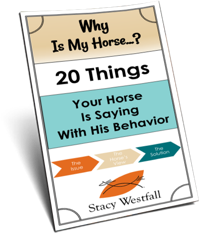 Free PDF Download "Why is my horse...20 things your horse is saying with his behavior"
PDF will be delivered to the email address you enter as will weekly tips from Stacy. Totally free. Unsubscribe anytime.