Have you ever met a horse like this? I have abbreviated the question but have left enough for you to see the main idea.
*
"Dear Stacy, I have encountered a big problem with the horse I ride and I would really like to hear your opinion about it. The problem is trailer loading (2 horse size trailer).  He is an 8 year old gelding. He is very calm, does not freak, does not get scared really. I have been riding him for about 4 years. He is a horse at a stable I go to, so he is not mine. Many people have been riding him. …

*

From horseback we can "control" him, no problem, and his ground work is also good. Truth be told we like him very much so we may have spoiled him some. So, 3 years in a row now every summer we have been attending western competitions in Hungary. That meant a competition every month or every 3 weeks, but we rarely needed a trailer as the competitions were close to home, so we rode over. The large trailer (for 6 horses) was usually no problem for him. When it was hot inside, it took him some time to go in.

*

The last time he was in a trailer for 2 horses it was 2 years ago. He resisted that time as well and he got punished, but eventually got into the trailer. 1 week ago we wanted to go to a competition and we assumed that Jack will get in without problem, but we were wrong. He absolutely did not want to go in. Of course it is the worst we could do as there was a time limit, and we needed to get going. We tried punishment, we tried food, we tried a towel on the head, but nothing worked. Eventually after he reared 2x, we gave up because it was clear that he did not care about his safety (and he is very accident prone). For a week now we practiced on another trailer and we managed to get him in with food. First it took me 20 minutes (work outside the trailer did not mean anything to him, what triggered that he got in was that I started eating his carrots…). This was in the morning, in the afternoon he needed only 5 seconds to grasp that the food was inside, so he went in no problem. After eating though he backed out right away. Today we tried again and after he got in, I touched his butt with the closing metal rod, so he backed out. After that I tried to get him in from the ground using a stick (driving him forward as I saw from you), but it turned out that he had no problem running over me instead. This was a big disappointment and surprise for me. I thought he respected me, but it turns out he does not. Or what do you think? We tried again and again, but he just kept running over us, so we started using punishment again, to have him back off and give us our space. Then I worked again from the ground with him, to calm him, get his mind off the trailer and he worked no problem. But the trailer was a no-no. In the end we got a guy to get him in, but Jack rather threw himself out then got in. We gave up in the end because it was past his dinner time and it was dark, and the owner of the stables came to Jack's rescue and told us to stop, to leave him alone.

 *

So this is my dilemma. … I thought he trusted me and respected me. And now I feel cheated. From your experience what do you think is the problem? We jump to punishment to soon? We should take it even slower? We need to stop with food soon, as it is not the best way I think.. when we go to a competition we cannot feed him to get him in.. What would you suggest we do? How can we make this better? … He is not a scared horse, just stubborn. Or what do you think? Sorry for such a long letter but I guess to be able to reply you need to know some background to this. I hope you can give a bit of hope, that this is not a lost cause. Thanks and best regards," Judit

*
There are several challenges here but none of them are so big that they cannot be overcome.
*
The first issue is the fact that Jack is not your horse and that he is being 'shared' by many. This is not a deal breaker but can make things take a bit longer in some cases. Horses can easily learn to 'play' people and the more people they have to practice with…the faster and better they can get at it. Really, it is no different than a kid that learns some teachers hold them accountable and some teachers don't. Once a kid, who is prone to playing this type of game, figures this out…they often 'test' all the teachers or authorities in their life. The teachers that hold strong will be questioned less often and the teachers that give in will be tested more often.
*
When I was a teen I worked at a riding stable. There were horses at the stable that would ride perfect for me and as soon as an inexperienced rider mounted up the horse would refuse to move. The horse was 'testing' the new rider because he had learned that many new riders just aren't willing to make things happen. The new rider felt guilty for kicking the horse, so they wouldn't do it….and the horse happily stood still and refused to move. If I mounted up, I didn't even have to kick…because the horse had learned long ago that I WOULD kick if needed…and so I didn't need to.
*
It sounds like Jack either;
1) is lacking the training to consistently load with someone he does respect
or
2) he knows to load but doesn't respect you enough to do it for you
*
Either way, if you want to be able to load him you will need to earn Jack's respect. If you watch the video below, at 1 minute 30 seconds into the video the horse is threatening to run me over, just like you described your horse Jack doing. The video below is only one of a full series that I suggest you watch in full, they can all be found here; 
https://www.youtube.com/user/stopoften
*
Using food to bribe the horse is not the best option. It isn't reliable because if the horse isn't hungry or interested you are left with no way to back up your request. It is no different than bribing a kid with food or toys. It may work a few times but often it will eventually create a bigger problem than you had to begin with as they realize you have no way to reinforce your request.
*
Take a look at the videos, study them and I hope they help.
*
Ride with Faith,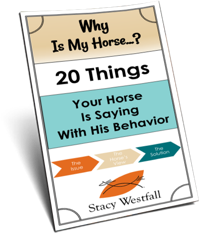 FREE PDF DOWNLOAD
WHY IS MY HORSE...?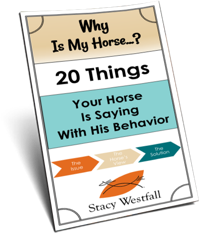 Free PDF Download "Why is my horse...20 things your horse is saying with his behavior"
PDF will be delivered to the email address you enter as will weekly tips from Stacy. Totally free. Unsubscribe anytime.