"The master in the art of living makes little distinction between his work and his play, his labor and his leisure, his mind and his body, his information and his recreation, his love and his religion. He hardly knows which is which. He simply pursues his vision of excellence at whatever he does, leaving others to decide whether he is working or playing. To him he is always doing both." James Michener
This is a great quote. In fact it is one that I am striving to live out. It does cause some problems though. It is such a change from the way that society has programmed us.
Have you ever stopped to think about the programming? Do you remember when you graduated from school and
then the next fall rolled around and it seemed like you were forgetting something? That is programming. Are there any areas of your life that feel programmed?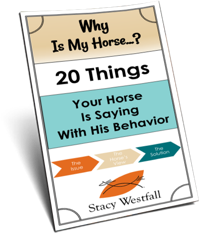 FREE PDF DOWNLOAD
WHY IS MY HORSE...?
No one taught you the skills you need to work through these things.
Riders often encounter self-doubt, fear, anxiety, frustration, and other challenging emotions at the barn. The emotions coursing through your body can add clarity, or can make your cues indistinguishable for your horse.
Learning these skills and begin communicating clearly with your horse.
Click here to learn more.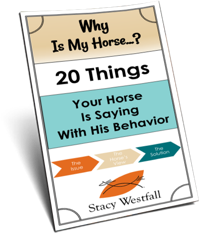 Free PDF Download "Why is my horse...20 things your horse is saying with his behavior"
PDF will be delivered to the email address you enter as will weekly tips from Stacy. Totally free. Unsubscribe anytime.