How specific are you goals when you show your horse?
I am showing my little horse, Vaquero, at the Quarter Horse Congress today. It is a class that I am using as a 'warm up' to prepare for the freestyle reining class a week from Saturday. So I need to be specific about my goals. To do this I organize my thoughts about the event.
1) I am entered to be able to 'feel' how my horse is mentally prepared for this show. When we enter the arena is he anticipating or is he waiting for my direction.
2) It would be nice to do well. A few years ago I took Roxy in the same class and 'schooled' as I am preparing to today and still managed to place in the top 10. I need to remember that this is dangerous ground though because if I begin to think about winning I may ride differently and it may cost me in my 'real' class-the freestyle.
3) But there are people watching! Oh yeah, these 'warm ups' are a good place for us humans to practice reading our own emotions. Feeling a little nervo….I mean excited? Dread? Fear? How balanced you feel will be part of the equation too.
Gotta go ride,
Stacy Westfall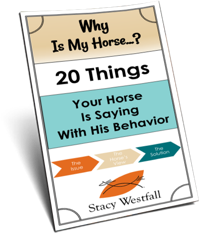 FREE PDF DOWNLOAD
WHY IS MY HORSE...?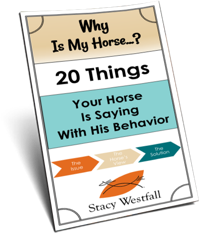 Free PDF Download "Why is my horse...20 things your horse is saying with his behavior"
PDF will be delivered to the email address you enter as will weekly tips from Stacy. Totally free. Unsubscribe anytime.