Do you ever just listen? I have three boys and sometimes when I am in the house I just stop and listen. Today I was in the kitchen and I stopped to listen. I had just allowed my oldest to look up a Youtube video of 911.
As I stood around the corner  and listened to the words of the song 'Where were you when the world stopped turning" I was given a glimpse of something. My boys, ages 9, 11 & 13, listened to the words and tried to process the horrific event they cannot remember.
Listening, not participating, gave me the chance to see through their eyes. To hear their thoughts. To observe the world from their point of view.
Do you stop and listen? Yes, this works in the barn too.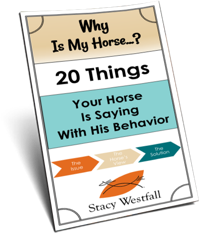 FREE PDF DOWNLOAD
WHY IS MY HORSE...?
No one taught you the skills you need to work through these things.
Riders often encounter self-doubt, fear, anxiety, frustration, and other challenging emotions at the barn. The emotions coursing through your body can add clarity, or can make your cues indistinguishable for your horse.
Learning these skills and begin communicating clearly with your horse.
Click here to learn more.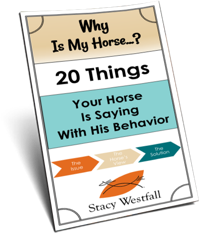 Free PDF Download "Why is my horse...20 things your horse is saying with his behavior"
PDF will be delivered to the email address you enter as will weekly tips from Stacy. Totally free. Unsubscribe anytime.