T H I N K is it Thoughtful, Honest, Intelligent, Necessary, and Kind?
All through my life I've struggled with the words that come out of my mouth. In last weeks blog I talked about how "out of the abundance of the heart the mouth speaks". What I want to talk about this week is how to control what comes out of our mouths. I learned this acronym somewhere along the way.
The acronym is THINK before you speak and it stands for-
T- Thoughtful
H- Honest
I- Intelligent
N- Necessary
K- Kind
If I think about this before I say something and what I'm about to say fits into this acronym and all these words then it's probably ok to say. If what I'm about to say doesn't fit all these words then it's either not Thoughtful, Honest, Intelligent, Necessary or Kind and I probably shouldn't say it.
I was reading the book of James this morning and read about how important controlling the tongue is. It talks about how the tongue is the rudder that steers our ship. I hope you will go look for it, you can find it in the book of James in chapter 3. So remember how important it is to THINK before you speak!
Written by Jesse Westfall. Lives in Mount Gilead, Ohio with his wife, Stacy and their three sons. Jesse is an NRHA judge and has trained horses professionally for 22 years.
Yep, that is also Jesse & his favorite horse, Lucy, pictured above in silhouette.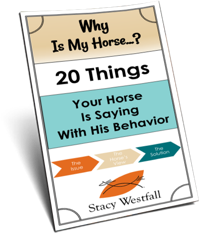 FREE PDF DOWNLOAD
WHY IS MY HORSE...?
No one taught you the skills you need to work through these things.
Riders often encounter self-doubt, fear, anxiety, frustration, and other challenging emotions at the barn. The emotions coursing through your body can add clarity, or can make your cues indistinguishable for your horse.
Learning these skills and begin communicating clearly with your horse.
Click here to learn more.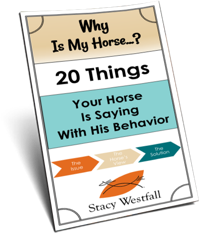 Free PDF Download "Why is my horse...20 things your horse is saying with his behavior"
PDF will be delivered to the email address you enter as will weekly tips from Stacy. Totally free. Unsubscribe anytime.