It is a cross country shirt but I think it applies to life. Many times we don't achieve because our brain stops us far before outside circumstances, other people or our bodies.
To me feeling fear and doing it anyway means…if you can identify the fear, understand where it is coming from and recognize if it is valid or invalid, then you can decide if you should 'do it anyway.'
If the fear is valid….don't push through it. If you don't understand it...don't push through it.
For example, if your horse has bucked you off…but you don't understand why; don't push through it. Get help.
On the other hand, if you have a fear of heights (like I do) and you go rock climbing, it is possible to identify the  fear. Then I can choose to trust the harness, the rope and the person belaying me (holding my safety rope). Fear identified, understood…now the rest is up to me. Can I feel the fear? Yes! Can I do it anyway? Yes!
Pictured top: My son Joshua. Pictured on rock: My son Caleb. Pictured below: Me overcoming my fear! I went up that same rock Caleb did (I'm the photographer…so not as many photos of me, lol)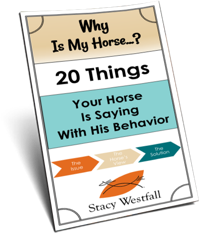 FREE PDF DOWNLOAD
WHY IS MY HORSE...?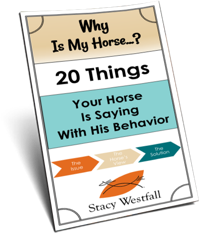 Free PDF Download "Why is my horse...20 things your horse is saying with his behavior"
PDF will be delivered to the email address you enter as will weekly tips from Stacy. Totally free. Unsubscribe anytime.