Heads up Guy McLean, Joshua is coming after you!
For another whip cracking lesson that is! I'm kicking myself because I cannot find the video I took of Guy teaching Joshua back in March.
Emily and Guy are great and I hope we can see each other this week at Equine Affaire in Springfield, MA. If you see Guy or Emily before I do tell them I said, "Hi" and that Joshua is going to be stopping by for another lesson.
Look at the results of the first lesson! (Yep, Guy even sells the whips!)
For all of you following Jac, if you come out to Equine Affaire make sure you get your picture taken with Jac. He will be hanging out in the Celebrity Horse area….Weavers going to be looking for those photos! More info to come.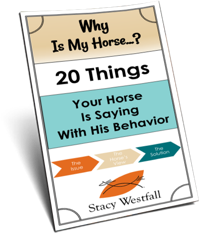 FREE PDF DOWNLOAD
WHY IS MY HORSE...?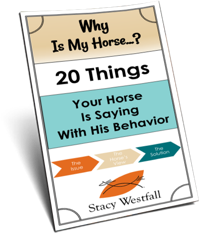 Free PDF Download "Why is my horse...20 things your horse is saying with his behavior"
PDF will be delivered to the email address you enter as will weekly tips from Stacy. Totally free. Unsubscribe anytime.