Still trying to figure out why this chokes me up!
This is the first time I have tried sharing a Facebook video from someone else (not loaded on YouTube), if you have trouble seeing it let me know and I will try sharing another way.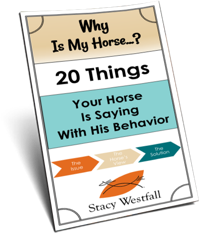 FREE PDF DOWNLOAD
WHY IS MY HORSE...?
Free PDF Download "Where is my horse...?"
20 things your horse is saying with his behavior.