After reading all of the comments following my post, "Help name the 'Jac' DVD set!" I experienced another round of thoughts concerning Roxy. Your comments and suggestions were a reminder of the full circle of events leading to these videos.  It is truly amazing how much these horses become a part of our lives.
As if right on cue I received a text from Greg with a photo of Dolly's newborn foal. Dolly is Roxy's mom. A tangible reminder that hope is, quite literally, born each spring.
Jac's journey was my journey also. And yours too. I haven't forgotten the request for a blog describing how all of these horses are related…and a blog describing how Greg is part of all of this:)        My list of blog topics seems to grow daily!
I was afraid at the beginning of the journey but now, a year later, I really do feel I have been set free. May you be blessed to face a fear in your life and also find this freedom.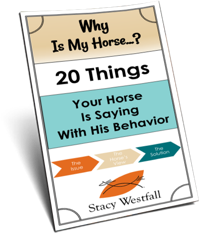 FREE PDF DOWNLOAD
WHY IS MY HORSE...?
No one taught you the skills you need to work through these things.
Riders often encounter self-doubt, fear, anxiety, frustration, and other challenging emotions at the barn. The emotions coursing through your body can add clarity, or can make your cues indistinguishable for your horse.
Learning these skills and begin communicating clearly with your horse.
Click here to learn more.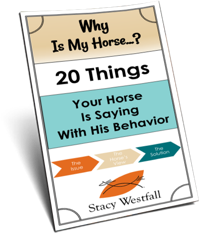 Free PDF Download "Why is my horse...20 things your horse is saying with his behavior"
PDF will be delivered to the email address you enter as will weekly tips from Stacy. Totally free. Unsubscribe anytime.