So for the last day of school I thought it would be funny to drive Denmark through the school 'car' line to pick up the kids.
I'm still not sure if it was embarrassing for the kids…but Denmark was great and I had fun! lol
Would this have been a success at your house? Do you do something special to mark the beginning and end of the school year for your kids?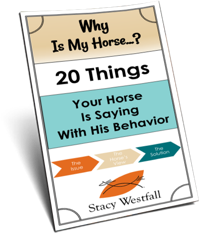 FREE PDF DOWNLOAD
WHY IS MY HORSE...?
No one taught you the skills you need to work through these things.
Riders often encounter self-doubt, fear, anxiety, frustration, and other challenging emotions at the barn. The emotions coursing through your body can add clarity, or can make your cues indistinguishable for your horse.
Learning these skills and begin communicating clearly with your horse.
Click here to learn more.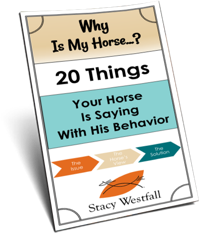 Free PDF Download "Why is my horse...20 things your horse is saying with his behavior"
PDF will be delivered to the email address you enter as will weekly tips from Stacy. Totally free. Unsubscribe anytime.