How much motivation does a horse need? 
That depends on the horse.
I was sure Maggie was a bad mother. Maggie was gentle with Newt at first but by the time he was a month old Maggie was removing small clumps of hair with her 'corrections'. By the time Newt was three months old he had scabs from her constant reminders to respect her space. I questioned Maggie's motherly instincts…but after he was weaned the same treatment was continued by the other horses. If a dominant horse wanted to move Newt it often took repeated bites or kicks to move him. Newt wasn't aggressive…he just didn't seem to perceive pain at the same level as other horses. He would stand and take the kicks with a pleasant, slightly confused, look on his face. Motivating Newt was clearly going to be a challenge…as evidenced from birth. 
Just as each person, dog, cat and horse is unique in personality-they are also unique in their perception of pressure. Newt showed from birth that he was willing to handle more physical pressure than the average horse. Does that mean that his mother was mean? Or that she used as much pressure as was necessary? I think only Newt could accurately answer that question.
One horse may respond to the subtle squeeze of a riders leg, while another may choose to ignore it.
How do we know how much pressure is correct for each horse?
By asking each horse.
Because by learning to read their body language the horse will tell you whether a bit is too big or if he will happily ignore it, or if the hand was too quick, or if he needs the lesson repeated again because he isn't clear.
A horse will tell you a lot if you know how to listen….or you could also ask their mother.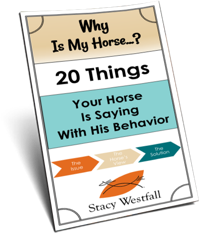 FREE PDF DOWNLOAD
WHY IS MY HORSE...?
No one taught you the skills you need to work through these things.
Riders often encounter self-doubt, fear, anxiety, frustration, and other challenging emotions at the barn. The emotions coursing through your body can add clarity, or can make your cues indistinguishable for your horse.
Learning these skills and begin communicating clearly with your horse.
Click here to learn more.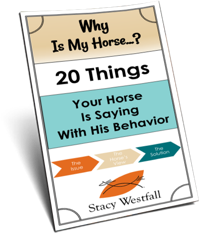 Free PDF Download "Why is my horse...20 things your horse is saying with his behavior"
PDF will be delivered to the email address you enter as will weekly tips from Stacy. Totally free. Unsubscribe anytime.