"How do you teach a horse to lay down so a person in a wheel chair can get in the saddle? The reason I am asking is because the end of August 2014 my boyfriend came down with west nile virus. As of the end of April 2015 he is still in a wheel chair and he wants to be able to ride again. Thanks for your time", Angie E.
This question got me thinking in several ways. First, let me say I am sorry that both of you are going through this. Years ago a good friend's husband nearly died from West Nile and has struggled ever since so I have an idea of the challenges you are going through. My heart and prayers go out to you both. I love that he wants to ride again. Setting goals is important for everyone because it keeps us looking forward.
My second thought is that I am not sure if teaching a horse to lie down to mount is the best option for people in a wheelchair to mount. If it was a great method then therapeutic programs would teach horses to lie down. My guess is that there are several reasons why it isn't the best choice.
Awkward -I have taught horses to lie down and I have mounted while they are down. It is more awkward than I would have guessed from watching it. If you see a horse with a saddle on while lying down you will notice that the saddle is facing sideways.
Difficulty -A horse standing up is a big motion. It is similar in a way to riding a horse going over a small jump as quickly raise their front end upward followed quickly by the hind end.
Challenge- An unbalanced rider would make standing up more of a challenge for the horse
If I do mount my horse while he is down I prefer to do so bareback. This makes it easier for both of us because it solves most of the issues listed above but makes it a less appealing method in a therapeutic setting.
I would suggest finding a local therapy barn to become accustom to riding again. Just as learning to be in the wheel chair has been a learning curve, learning to ride again will also be a new learning curve. The people I have met that are involved in therapy have been extremely caring and will be in the best position to be able to help you guys with this transition, including the discussion about his ability to mount from a horse that is lying down.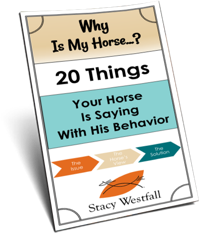 FREE PDF DOWNLOAD
WHY IS MY HORSE...?
No one taught you the skills you need to work through these things.
Riders often encounter self-doubt, fear, anxiety, frustration, and other challenging emotions at the barn. The emotions coursing through your body can add clarity, or can make your cues indistinguishable for your horse.
Learning these skills and begin communicating clearly with your horse.
Click here to learn more.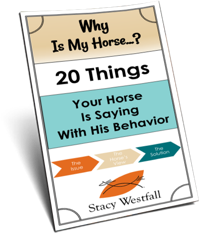 Free PDF Download "Why is my horse...20 things your horse is saying with his behavior"
PDF will be delivered to the email address you enter as will weekly tips from Stacy. Totally free. Unsubscribe anytime.