"Yesterday my horse stepped on my foot! No LOL; it hurt.
Afterward, I decided maybe my horse was being disrespectful??? She knows where she's putting her feet. If she had a foal, would she step on it? She was squirmy when I put the saddle on, (I can't remember her stepping on me before this.) and she stepped on my foot with her hind foot as I tried to steady her. I'm not sure if I might have turned her head slightly with the reins… but if I did, is it her job to know where her feet are? I wonder if my feet were mud puddles if she would have missed. The weather was finally looking nice, and she did not have her mind on me, but was looking out at the pasture.
Maybe I'm being stupid… but any comments on this? Was this a show of disrespect?"
You make an interesting argument here. Your point about knowing where her feet would be if a mud puddle or a foal were involved were dead on correct. Pretty much everyone who has ridden for long knows that a horse can go to great lengths to avoid touching their foot to an object or mud puddle if they are committed to NOT stepping there.
I think your issue, her stepping on your foot, was YOUR issue, not hers. She clearly doesn't have the same concern for your foot as she does a mud puddle. Sad thought but…
My guess is that you are probably accurate when you say that she was distracted and didn't have her mind on you and was looking out in the pasture. She should have some responsibility for paying attention to you and you should have some responsibility for paying attention to her. It sounds like you became aware that she was distracted…was that before or after she stepped on you? Part of your job is to notice the distraction and either correct her for it or realize that you need to be aware that the distraction could lead to ignoring you to some degree, which puts you at risk.
Most of the horses I have seen step on people were distracted and not paying attention to the person near them. This also says something about relationship between the handler and the horse. Be sure that your horse is respectful enough of you that even when worked up, invading your space is still not an option.
Thankfully I cannot remember the last time that I was stepped on by a horse, probably because I am very aware (it is worth noting that being stepped on in the past has helped me become this aware:)  I expect well trained horses  to watch me but I am always watching them to know where they are at mentally. When I am around younger horses I take even more of the responsibility upon myself to use self defense and stay aware.
Can a horse 'take aim' and step on you? I'm sure it is possible. I have seen them take aim and step on other things; tarps, dogs, and more…but I really hope my horse isn't aiming for me!
It is also worth noting that although horses can have excellent hoof awareness it doesn't make them perfect. They are still prone to tripping and missteps not unlike their owners. I remember taking dance lessons with my husband Jesse. I would like to think he knows where his feet are in general…and that he wasn't aiming for me…or was he?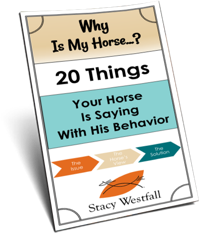 FREE PDF DOWNLOAD
WHY IS MY HORSE...?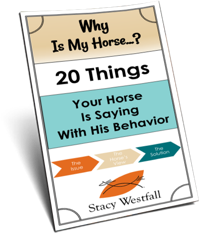 Free PDF Download "Why is my horse...20 things your horse is saying with his behavior"
PDF will be delivered to the email address you enter as will weekly tips from Stacy. Totally free. Unsubscribe anytime.