Help! Should I start a second blog site? Or just add more content to this blog and Facebook?
I have the urge to blog and discuss topics that are NOT horses…for example marriage, kids, homeschooling….the stuff that happens in my life that is more indirectly related.
So….separate site?
If you are here for 'horse' stuff….how would you feel about a post that was my favorite recipe or about me homeschooling my kids?
I bought two other domains already just incase….
yourlifeyourwork…com  —–work is so closely tied to life
or
mastertheartofliving….com  ——- I don't just want to 'live', I want to 'master the art of living'
Would it be more confusing for me to have two sites….or more useful because I have 'horsey' and 'non-horsey' topics?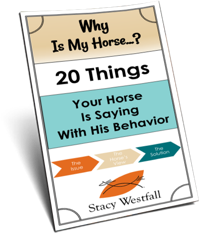 FREE PDF DOWNLOAD
WHY IS MY HORSE...?
No one taught you the skills you need to work through these things.
Riders often encounter self-doubt, fear, anxiety, frustration, and other challenging emotions at the barn. The emotions coursing through your body can add clarity, or can make your cues indistinguishable for your horse.
Learning these skills and begin communicating clearly with your horse.
Click here to learn more.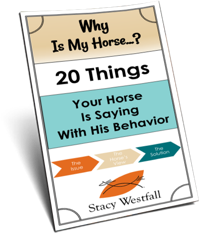 Free PDF Download "Why is my horse...20 things your horse is saying with his behavior"
PDF will be delivered to the email address you enter as will weekly tips from Stacy. Totally free. Unsubscribe anytime.