Have you ever owned a Breyer horse?
When I was growing up, I had a small herd of Breyer horses. It would be hard to say which was my favorite. I loved them all. Elegant Arabians, long-legged foals, island ponies that walked right out of a book. No size or shape or color was wrong.
I took them outside to graze, built pastures out of sticks, jumped them over fences and blanketed them with hand made blankets sewn by my grandmother.
While I grew up dreaming of riding these horses, it never occurred to me that I would own an actual horse…that became a Breyer model. So when Breyer contacted me asking about making my horse Popcorn into a limited edition Breyer…the answer was an enthusiastic 'YES'!
Now, as we approach Christmas I have teamed up with Equithrive to run a contest ending with one of YOU owning your very own Popcorn model. Entering is easy.
There are three ways. Simply answer the question I asked in the comments below either 1) in the comments below this post, here on my blog 2) on Equithrives FB page or 3) on my Facebook page
There will be a new question every day between now and December 19th.
The winner will be announced on December 20th!
I'm excited to read your stories! (and if you have time…reading what other people have posted is really fun!)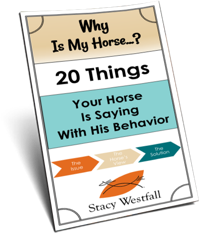 FREE PDF DOWNLOAD
WHY IS MY HORSE...?
No one taught you the skills you need to work through these things.
Riders often encounter self-doubt, fear, anxiety, frustration, and other challenging emotions at the barn. The emotions coursing through your body can add clarity, or can make your cues indistinguishable for your horse.
Learning these skills and begin communicating clearly with your horse.
Click here to learn more.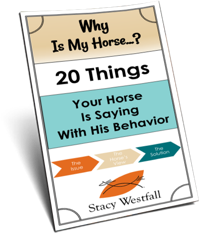 Free PDF Download "Why is my horse...20 things your horse is saying with his behavior"
PDF will be delivered to the email address you enter as will weekly tips from Stacy. Totally free. Unsubscribe anytime.