He was tall, dark and handsome (no wait, that was my husband)…
…
He was sorrel, confident but not cocky. The look in his eye was intelligent and proud. 
We met in Tennessee at The Road to the Horse colt starting championship. 
When I watched him with the other horses I noticed that he held his ground but didn't go out of his way to be aggressive to others. 
I chose him.
We spent the first hour in the round pen in a dance of sorts. 
The other two roped their horses. One was mounted and riding.
But Popcorn and I danced on.
I bought him at the end of the first day.
Many people questioned my abilities.
"She's too far behind."
"She'll never catch up."
"Who chose her?"
They went to bed with their doubts.
I went to bed owning my next horse.
Dedication is something you choose BEFORE the outcome is apparent.
And the next day.
He chose me. 
And the rest, as they say, was history. 
Thanks to him I took home the title: World Champion Colt Starter…
Or at least that is what the world said.
…but what I really took home was my new best friend.
*   *   *
Now, as we approach Christmas I have teamed up with Equithrive to run a contest ending with one of YOU owning your very own Popcorn model. Entering is easy.
There are three ways. Simply answer the question (How did you meet your horse?)
either 1) in the comments below this post, here on my blog 
There will be a new question every day between now and December 19th.
The winner will be announced on December 20th!
I'm excited to read your stories! (and if you have time…reading what other people have posted is really fun!)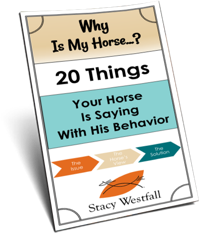 FREE PDF DOWNLOAD
WHY IS MY HORSE...?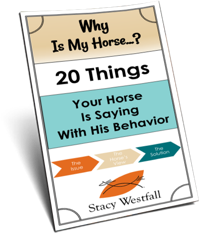 Free PDF Download "Why is my horse...20 things your horse is saying with his behavior"
PDF will be delivered to the email address you enter as will weekly tips from Stacy. Totally free. Unsubscribe anytime.