Would it surprise you that my favorite part of owning horses might not be the riding?
Although I love riding…I love even more the chance to get to know these quirky, amazing creatures!
Sometimes it is a facial expression, other times it is something I catch them doing.
Like in this photo…when I walked out and caught Popcorn sitting on a bale of hay.
I don't know about you…but most of the time when I catch them doing something silly, the moment ends before I can pull out the camera.
So most of these moments are recorded in my mind.
Popcorn has been with me for almost 14 years now…and there are many more strange and silly things that he has done.
Like the year he spent stuffing any bucket in his stall full of hay. Or the time he was supposed to be ground tied…but he left my property at a full gallop! (thankfully he returned moments later…at a full gallop!)
I'd love to hear your strange or silly horse story!
Now, as we approach Christmas I have teamed up with Equithrive to run a contest ending with one of YOU owning your very own Popcorn model. Entering is easy.
There are three ways. Simply answer the question (What strange or silly thing have you caught your horse doing?)
either 1) in the comments below this post, here on my blog 
There will be a new question every day between now and December 19th.
The winner will be announced on December 20th!
I'm excited to read your stories! (and if you have time…reading what other people have posted is really fun!)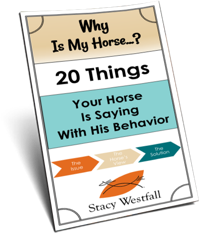 FREE PDF DOWNLOAD
WHY IS MY HORSE...?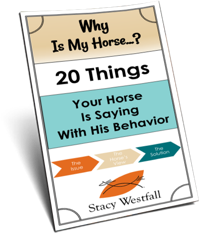 Free PDF Download "Why is my horse...20 things your horse is saying with his behavior"
PDF will be delivered to the email address you enter as will weekly tips from Stacy. Totally free. Unsubscribe anytime.