This is a bit of a tricky question for me to answer. 
The shortest version is 'hanging out'…but that doesn't paint a very clear picture for you.
It does, however, illustrate the point that although I make my career in horses, compete with horses and professionally train horses…
…my favorite part is still simply being with them.
To get even more specific I've narrowed it down to two examples.
I really enjoy going for a trail ride bareback. 
It reminds me of growing up, of riding my pony and then my first horse…and everything that was magical about my childhood.
Plus it reminds me of The Black Stallion books:)
But I also really like listening to horse chew hay or grass.
I find it strangely satisfying.
Peaceful.
*   *   *
Now, as we approach Christmas I have teamed up with Equithrive to run a contest ending with one of YOU owning your very own Popcorn model. Entering is easy.
There are three ways. Simply answer the question (What is your favorite way to spend time with your horse?)
either 1) in the comments below this post, here on my blog 
There will be a new question every day between now and December 19th.
The winner will be announced on December 20th!
I'm excited to read your stories! (and if you have time…reading what other people have posted is really fun!)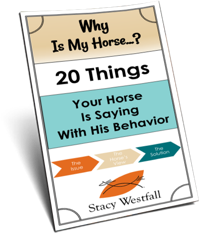 FREE PDF DOWNLOAD
WHY IS MY HORSE...?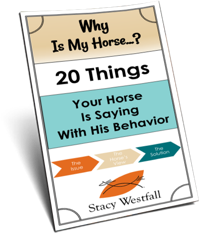 Free PDF Download "Why is my horse...20 things your horse is saying with his behavior"
PDF will be delivered to the email address you enter as will weekly tips from Stacy. Totally free. Unsubscribe anytime.