Horses are excellent teachers…if we choose to be excellent students. 
Over the years Popcorn has taught me many things. 
From the first day I met him I knew I admired his strong, confident nature.
But that hasn't always made him an easy horse.
There is this word that starts with 's' that has been used about him…
…and about me.
Stubborn.
While some may see this as a character flaw…I prefer to see it as a challenge. 
Stubbornness is the cousin to many other more sought after emotions; determination, persistence and even patients. Although I admit these are all slightly different flavors.
Popcorn provided me with many lessons but the clearest illustration I can relate comes when I was teaching him to lie down.
The method I use involves no ropes. No force. That was the deal I made with myself (and I'm stubborn so there is no changing it).
But it also allows the horse to make a choice. 
They can either stand in a position like the horse in the model 'the end of the trail' (head down, all hooves close together)
or they can lie down. 
Most horses quickly decide that it's easy to lie down. And they do. 
But not Popcorn.
Every day for over a month I would work with him on this. I would move him and position him…and wait.
And every day for over a month he would outwait me. 
I could see him almost choose it…
…and then decide against it.
Eventually, I moved on to other things. 
I wasn't going to break my rule and force him.
And he wasn't going to choose it.
We were at an impasse.
Every once and a while, I would ask him again. 
He consistently declined.
Probably a year (maybe more) after Popcorn and I had begun this process, I had him at Equine Affaire in Ohio and I was teaching. The subject was 'Teaching your horse to bow' and Popcorn was really good at bowing.
As the demo wrapped up I had Popcorn in a bow. His left knee was on the ground and his head was tucked beautifully.
I was explaining that although he would bow, he was being much more stubborn about lying down. As I was explaining it…almost as if it were on cue. 
Popcorn decided to lie down. 
Right there. 
With all the people.
In a strange place.
Without me asking.
I swear that horse understands English. 
It was as if he said.
Ok. 
Now I'm ready.
And as a student of the horse, I credit Popcorn with teaching me patients…with a side of humble pie.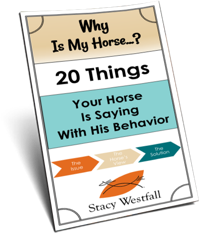 FREE PDF DOWNLOAD
WHY IS MY HORSE...?
No one taught you the skills you need to work through these things.
Riders often encounter self-doubt, fear, anxiety, frustration, and other challenging emotions at the barn. The emotions coursing through your body can add clarity, or can make your cues indistinguishable for your horse.
Learning these skills and begin communicating clearly with your horse.
Click here to learn more.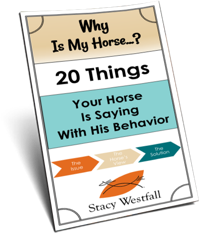 Free PDF Download "Why is my horse...20 things your horse is saying with his behavior"
PDF will be delivered to the email address you enter as will weekly tips from Stacy. Totally free. Unsubscribe anytime.