Now is your chance to invent a contest for horses…a contest just for fun!
I would invent the 'muddy horse contest' and enter Popcorn.
I think he could win.
Check out this video of Popcorn playing in the mud. The other horses try to keep up…but none are as dedicated to the art of applying mud to every inch of the body like Popcorn is.
What contest would you invent? Why would your horse win?
——————————————–
Thankfully, his Breyer model is the clean version of him. It even has his brand!
Now, as we approach Christmas I have teamed up with Equithrive to run a contest ending with one of YOU owning your very own Popcorn model. Entering is easy.
There are three ways. Simply answer the question (What 'event' would your horse excel in…that isn't really an event?)
either 1) in the comments below this post, here on my blog 
There will be a new question every day between now and December 19th.
The winner will be announced on December 20th!
I'm excited to read your stories! (and if you have time…reading what other people have posted is really fun!)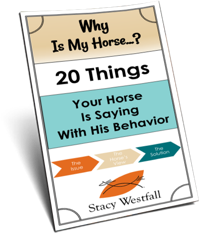 FREE PDF DOWNLOAD
WHY IS MY HORSE...?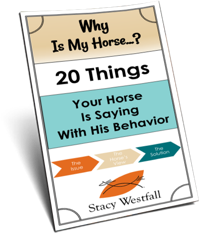 Free PDF Download "Why is my horse...20 things your horse is saying with his behavior"
PDF will be delivered to the email address you enter as will weekly tips from Stacy. Totally free. Unsubscribe anytime.